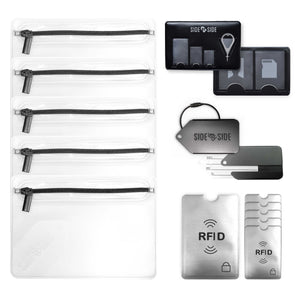 TRAVEL KIT #01
Sale price Price USD$19.95 Regular price


TRAVEL KIT #01:
We combined some travel essentials to help you to stay more organized during your next trip!

What's inside the Travel Kit #01:

5x MINI ZIPPER POUCH:
An ever-handy EVA Zipper Pouch that can carry anything from foreign currencies, electronic adaptor/plug to medicine on your travels. Splash-proof. Dim.: 13 x 9 cm.

1x SIM CARD HOLDER: 
3 sim card compartment included with universal metal pin (ready for iPhone too), backside panel can fit ID photo and SD card. All packaged into a credit card size.

RFID Signal Blocking Sleeves 5x Credit Card size, 1x Passport Size:
Anti-Hacking Sleeve Blocker. Protect yourself from data thieves who skim & steal your personal financial information within seconds. Travel safely & securely with confidence knowing you are protected with our RFID Sleeves & will not be a victim.

1x LUGGAGE TAG: 
Aluminum coated material. Stainless steel cable 1.5 mm. Paper card: both sides usable. Card cover: Clear PVC protection. Tag size: 80 x 44 mm 

Warranty: 
3-year


Travel Tips:
The credit card size of the Sim Card Holder can fit any wallet!