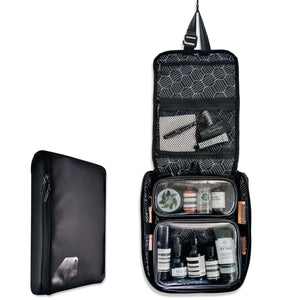 TRAVEL PACKER LT
Sale price Price USD$59.95 Regular price

No two trips are the same, but you can always have the same comfort. Bring your comfort all together with our first class toiletry organizer, now available in a lighter (LT) version.


The hard shell back panel allows the Travel Packer LT to literally replicate your home bathroom organization in any hotel bathroom!



Or, you can hang it the way you want with the detachable hook strap.



A slim and incredibly versatile toiletry bag organizer created for every traveler on any trip, with various features designed for efficiency and comfort.
The Travel Packer LT is a modular toiletry bag with optimum compartmentalization that allows travelers to adapt for their trips as needed. Detachable Dopp Cubes make up the interior of the Travel Packer which can be used together or individually.
Unlike traditional brick-shaped toiletry bags, the Travel Packer LT features a slim design to utilize already limited luggage space.  Although it functions as primarily a toiletry bag, it can also be used to organize any personal belongings.

FEATURES INCLUDED:
• Sleek and Slim design made for optimal packing.

• Multiple hanging positions can adopt a stand up, low hanging, or high hanging position.

• Mesh pockets to let damp items breathe and dry.

• Discreet pocket for discreet things.

• Two detachable and leak-proof Dopp Cubes in small and large.

• Two elastic loops to hold anything from your toothbrush to comb.


What does LT edition stand for?
This is a lighter version of the original Travel Packer that was launched on Kickstarter in 2018. The overall design and shape, as well as the main hook and detachable dopp cubes S & L remain the same. We made some improvements and streamlined a few other specs to make it even more sleek and compact for this LT edition.


SPECIFICATIONS:
Travel Packer:
Height: 11'' | 28cm 
Width: 8.45'' | 21.5cm 
Thickness: 1.55'' | 4cm
Weight: 16.75 oz | 475g
Main fabric: polyester

Dopp Cube #S:
Height: 3.5'' | 9cm 
Width: 7.90'' | 20cm 
Thickness: 1.55'' | 4cm
Main fabric: polyester, eva

Dopp Cube #L:
Height: 6.3'' | 16 cm 
Width: 7.90'' | 20cm
Thickness: 1.55'' | 4cm
Main fabric: polyester, eva

SKU: SBS018
Gift Box: included
Warranty: 3-year